She sees sea shells, not only on the sea shore
My peripatetic lifestyle continues.
Not content with life in Veneto, I have moved southwards to the Adriatic coast of the Marche region. Cupra Marittima is my new home, with sandy beaches, and large round pebbles where the water from the hills meets the sea. The promenade stretches from my apartment along the shore-line to the centre of the town, where small shops nestle on corners and the youngsters play football in the square watched by old men warming the benches. Every conceivable shop finds its home in this pretty town - wool of every colour and texture for the avid knitter or crocheter, a stationery shop (my personal favourite), boutique and lingerie, to name but a few. Pizzerie are dotted around, interspersed with gelaterie and bars, whilst steps rise up to a church and convent. Rising above Cupra Marittima is Cupra Alta, the medieval walled town, the warm brown of the stone nestled on the hillside.
My time here has been short, and so also the exploration, but every morning the dogs and I wander the shoreline. As they dive in and out of the sea, I step over and around the flotsam and jetsam that lies stranded above the tide-line. A solitary flip-flop, the rusted remains of an engine part, beautiful driftwood carved by the sea, and shells, lots and lots of shells.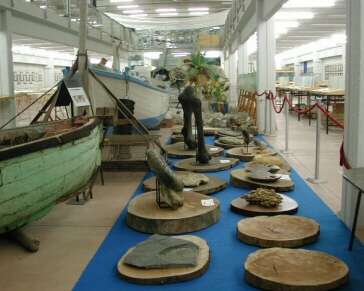 But it is not just on the sea-shore that I can see shells. The view from my apartment is not, sadly, of the silvery-blue sea but of a large white building which houses a shell museum - and not just any shell museum. A shell's throw from my front door is the world's largest shell museum and collection.
I never know what to expect from a museum that only features one subject-matter. I mean to say, how many shells can one see without getting bored? Quite a few, is the answer. Over 900,000 to be precise, with a few sets of shark's teeth and the odd boat thrown in.
You can learn a huge amount about shells that probably hadn't fully registered in your consciousness, including: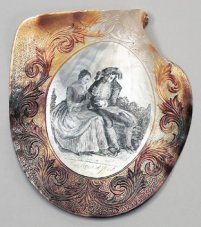 Cameo brooches, buttons, and other jewellery pieces have been fashioned from shells and/or mother of pearl.
How different ethnic groups have used shells in their culture.
How religions use shells in their art and practice - Venus is depicted as rising from a scallop shell, Vishnu holds a shell in one of her hands, many fonts in Christian churches are formed of the valve of Tridacna gigas, for example.
I really didn't expect to be so enamoured of this museum, but it is well laid out and I learned something (which is, after all, the purpose of a museum). For visitors during the off-season months, or when the beach has become just a little tiresome in the summer months, this museum is an excellent way to wile away an hour.
The shop is also very tempting, and free to enter if you only want to peruse that area. Whilst some may think that shells have something of the 1970s decor to them, I for one quite like an attractive shell or two to decorate the bathroom or terrace, and there are loads to choose from at very attractive prices. I have a sneaking suspicion that friends and family are going to be treated to a pasta and/or shells for Christmas presents this year!
Museo Malacolgico Piceno, Cupra Marittima
http://malacologia.org